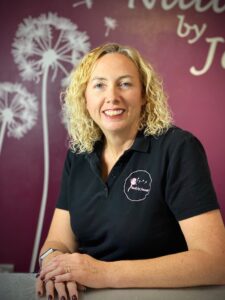 I am your friendly and approachable local gel nail technician based in Park Street, Herts.
I offer a professional service in a dedicated room that is clean, relaxed and private.
I am dedicated to ensuring your nails stay in a healthy condition, by using premium products and professional techniques, allowing you to grow and maintain your own long and strong natural nails.
Hertfordshire Nail Technician
I have 10 years experience, specialising in natural nails and gel overlays. Based in Park Street, close to the centre of St Albans.
I have a dedicated nail salon in my home on a quiet residential street, with plenty of free parking on the street or driveway.

I am fully qualified and insured. Nail appointments must be pre-booked.