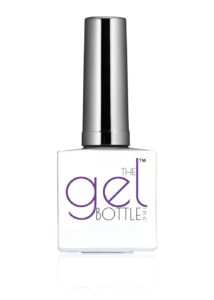 The Gel Bottle
Although a fairly recent addition to the gel overlay market, this immediately became the No1 go to product for my clients. Painted over naturals nails, clients are delighted with the strength and durability of their manicures with the added knowledge that their natural nail remains strong and intact.
The Gel Bottle is British based premium gel polish brand that is vegan friendly and cruelty free. There is a vast range of highly pigmented colours that have a continuous shine and last three weeks or more without chipping or lifting.
Builder in a Bottle
Builder in a Bottle (aka BIAB) is a product by The Gel Bottle that is taking the industry by storm. It comes in a variety of natural shades and is an extremely tough, soak off or infill gel that is applied to the natural nail without damaging the nail first. It can be worn alone or under a colour to provide added strength to ensure optimal gel wear time whilst allowing your natural nails to remain strong and grow to your desired length.
Nail Art
Whether its one feature finger or a whole set of artistic nails, Janet can turn her hand to most designs. Take a look at the many designs shown on Nailsbyjanetstalbans Instagram feed, or the many examples that she holds on display in the salon.
Please request an extended time slot if you think you'd like nail art on the day.